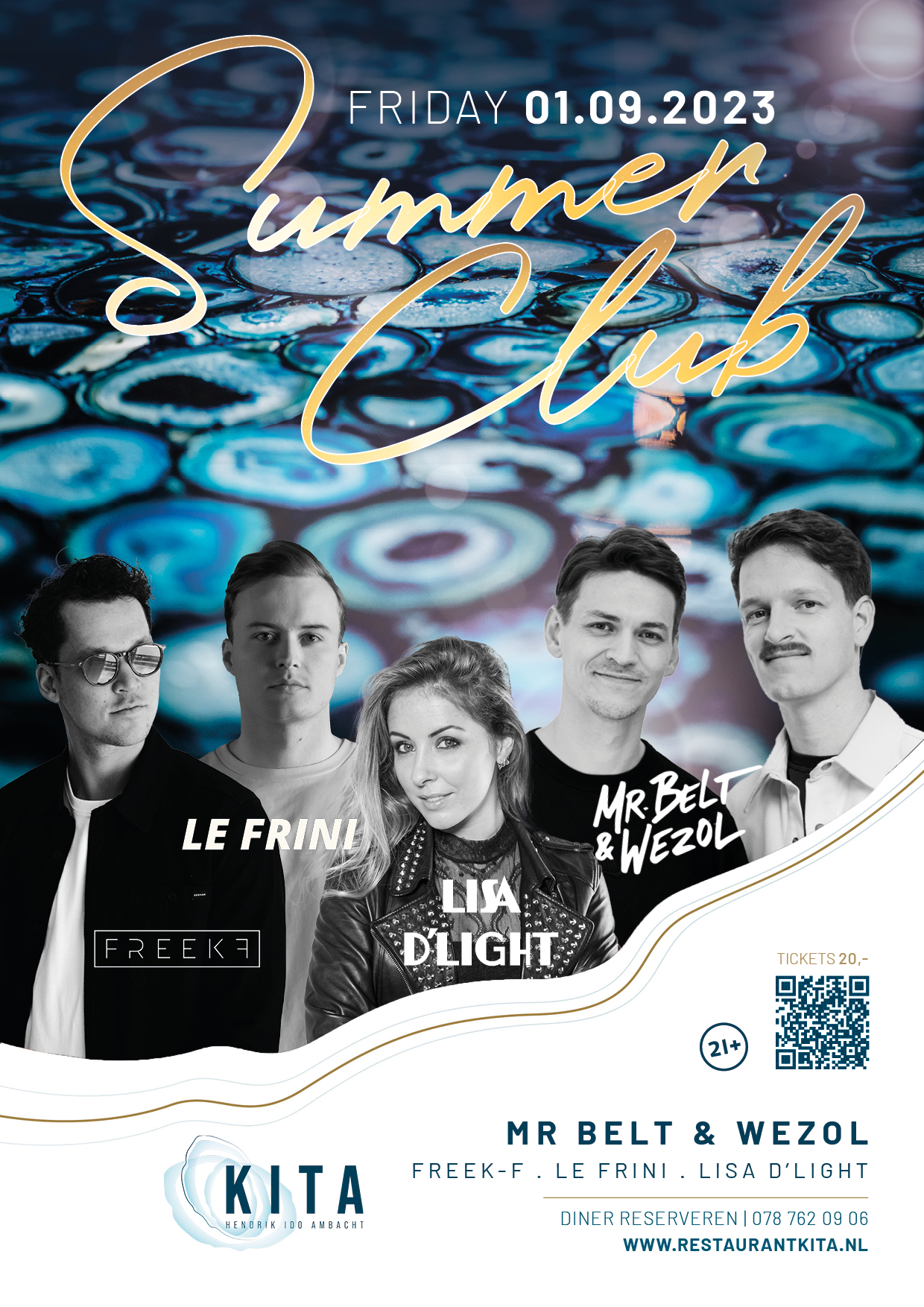 De allereerste editie van de Summer Club in Kita wordt een knaller. We vieren het einde van de zomer met een feestavond voor in de boeken. Onze resident dj Freek-F, Lisa d'Light en Le Frini zorgen voor een heerlijke set tijdens het diner en Mr. Belt and Wezol toppen de avond af met hun heerlijke beats, energie en moves.
The very first edition of Summer Club at Kita is going to be a blast. We're celebrating the end of summer with a party night for the books. Our resident DJ Freek-F, Lisa d'Light and Le Frini will provide a delicious set during dinner and Mr. Belt and Wezol will top off the evening with their delicious beats, energy and moves.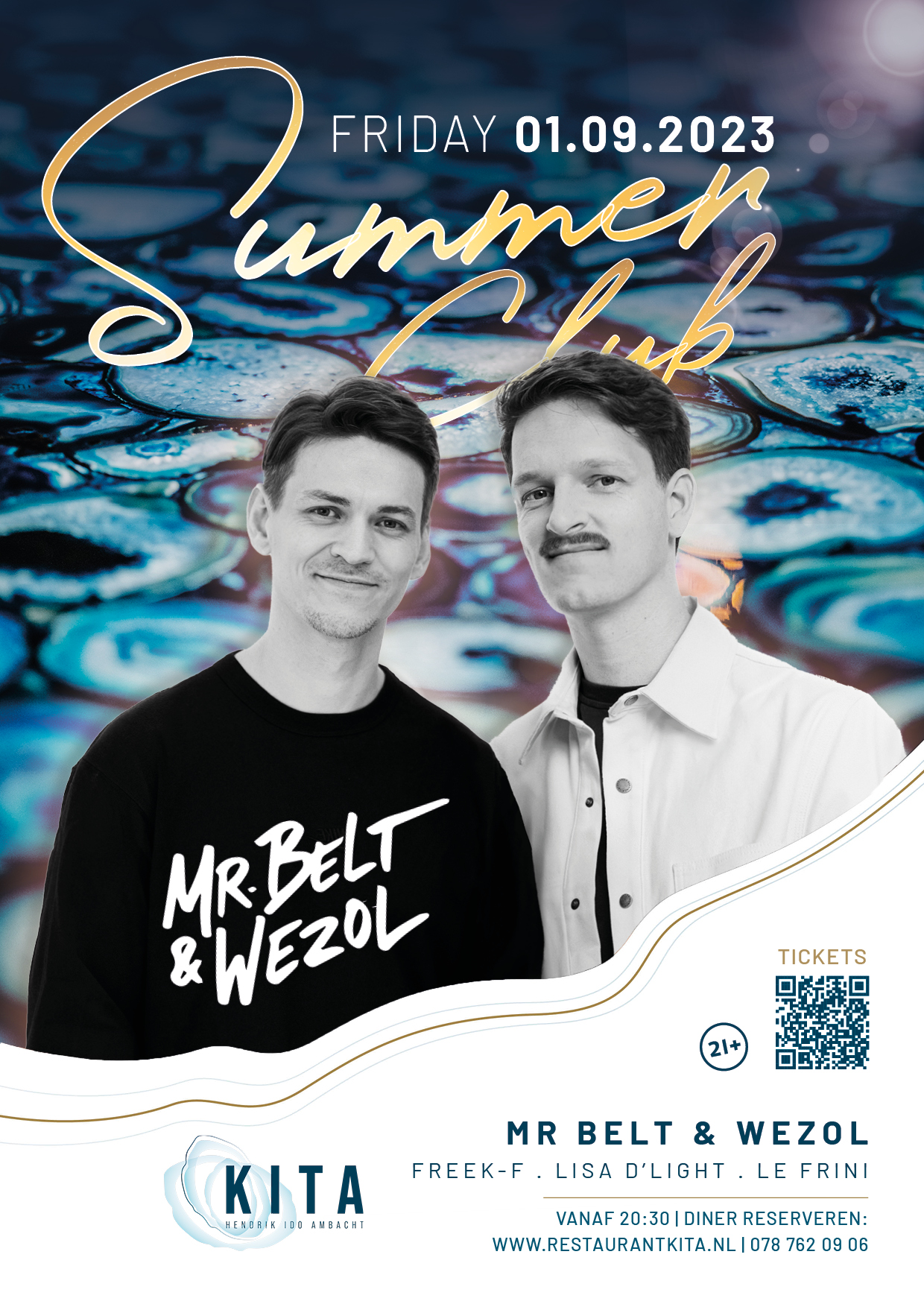 Mr. Belt & Wezol, vaak omschreven als Nederlands meest opvallende DJ-duo. Deze super aardige gasten (zijn ze echt) combineren guilty pleasures en bekende samples met eigentijdse beats. Een feest der herkenning en opwinding alom voor deze nieuwe sound die ze neerzetten. Vorig jaar stonden ze op de Summer Club in Le Barrage, daar ging het dak eraf. Wij kijken uit naar jullie komst mannen, dit jaar in Kita!
Mr. Belt & Wezol, often described as Holland's most remarkable DJ-duo. These super nice guys (they really are) combine guilty pleasures and well-known samples with contemporary beats. A celebration of recognition and excitement all around for this new sound they put down. Last year they performed at the Summer Club in Le Barrage, thats was a great party! We look forward to seeing you guys this year at Kita!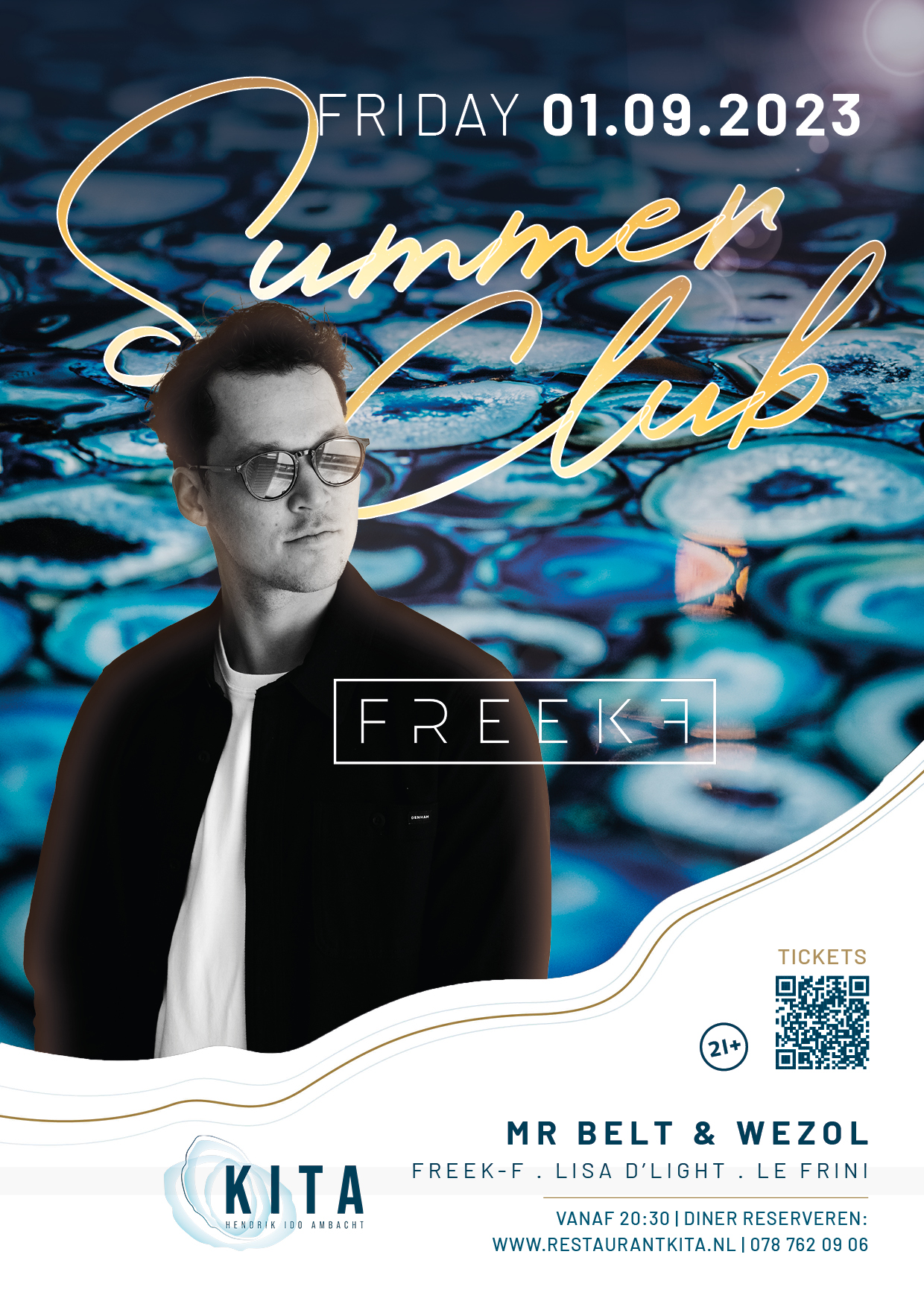 Freek Feenstra ook bekend als Freek-F – is een Nederlandse 28-jarige DJ/Producer uit Rotterdam. Freek-F is gespecialiseerd in het aanvoelen van zijn publiek met zijn groovy, sexy, elektronische/house/afro sounds. Zijn energie is weergaloos. Deze man kan eigelijk alles.
Met trots mogen wij hem al meer dan 10 jaar de resident DJ van de 'Willaerts Group' noemen.
Freek Feenstra also known as Freek-F – DJ/Producer is a Dutch 28-year-old DJ/Producer from Rotterdam, Netherlands. Freek-F specializes in 'reading' his audience and with his groovy, sexy, electronic/house/afro house sounds. His energy is great. This man can do anything.
We are proud to call him the resident DJ of the 'Willaerts Group' for more than 10 years.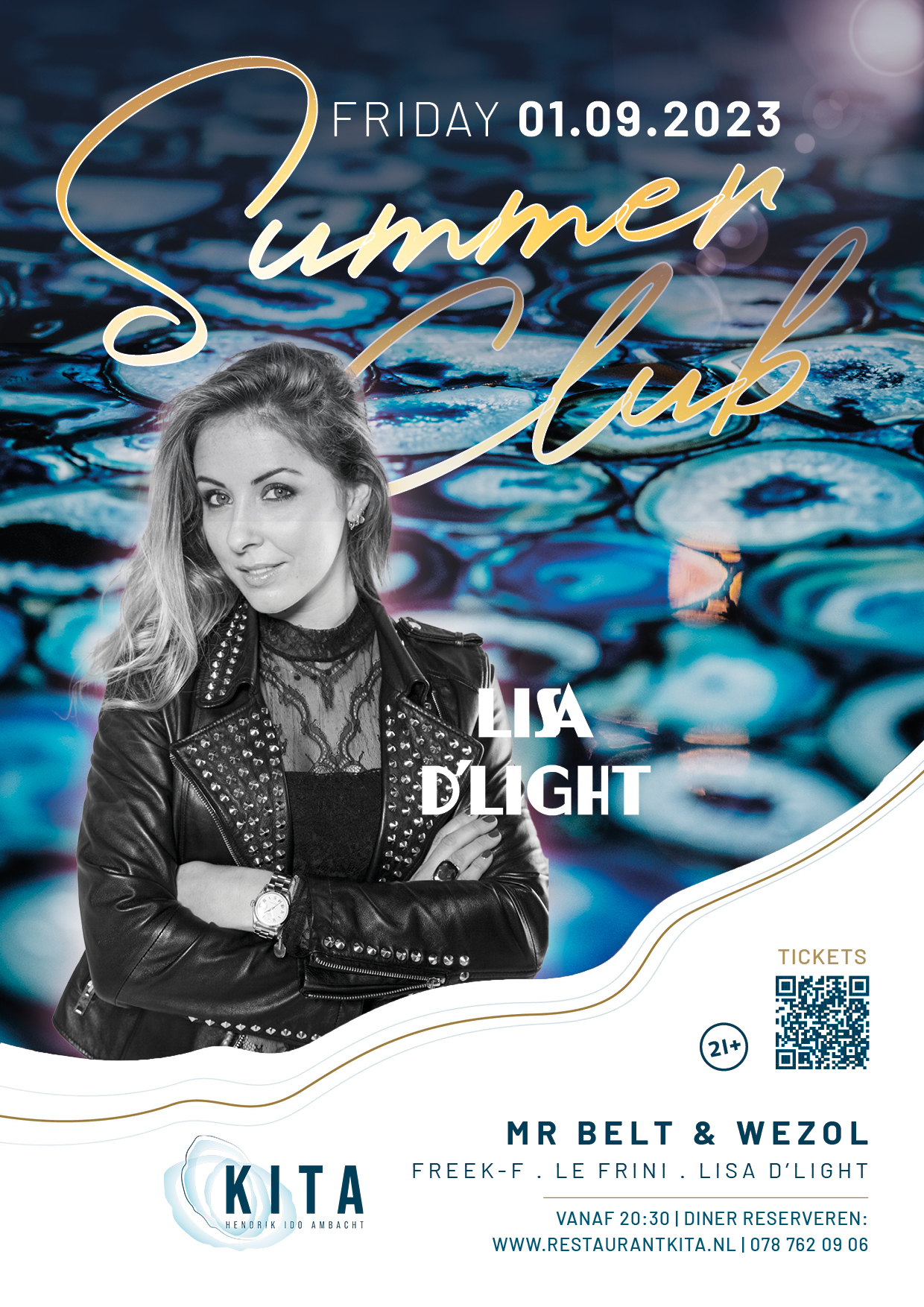 Als een engel staat ze achter de DJ Booth, maar schijn bedriegt. Deze vrouw kan voor een georganiseerde chaos zorgen. Altijd geconcentreerd. Als haar glimlach verschijnt tijdens haar set, weet je dat je goed zit.
She looks like a flower but stings with her beats. Like an angel she gets behind the DJ booth, calm and focused but she can create ruthless organized chaos. In the meantime Lisa regularly plays for the Willaerts Group and how happy we are with this angel.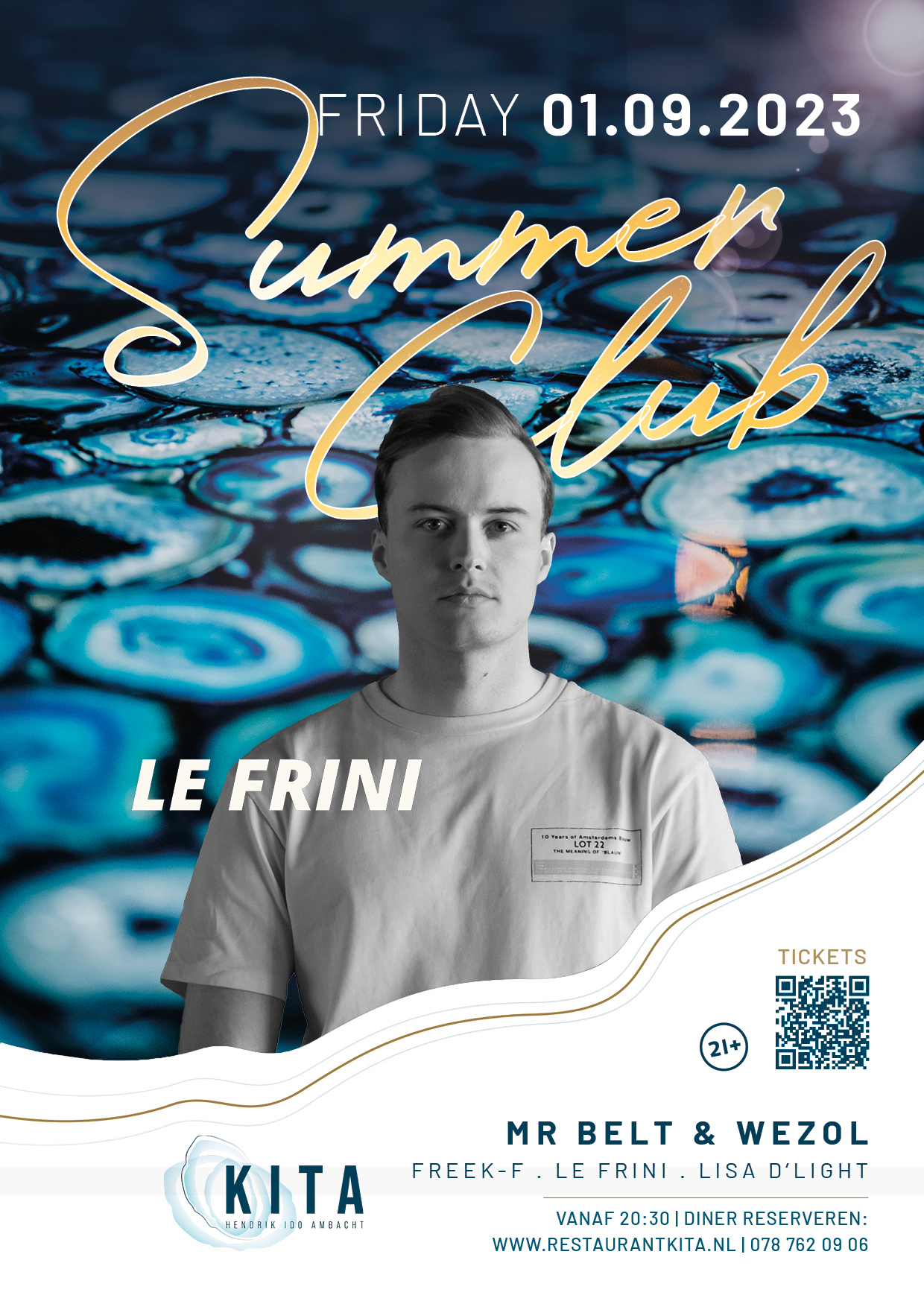 Het wonderkind van de Willaerts Group "le Frini" Hij heeft inmiddels al een aantal sets gedraaid in Kita op vrijdag en zaterdag avond. En wij kunnen niks anders zeggen dan: 'Jeetje wat lekker!' Je hoort het gelijk als hij er is. Pompende beats, Guilty Pleasures met de juiste hoogtepuntjes. Deze man mag zeker niet ontbreken tijdens de Summer Club. Wij zijn groot fan!
The wonder boy of the Willaerts Group "Le Frini" He has already played several sets in Kita on Friday and Saturday night. And we can't say anything but, "Jeez how delicious! You can hear it right away when he's there. Pumping beats, Guilty Pleasures with the right climaxes. This man should definitely not be missed during Summer Club. We are big fans!